The Samsung SDI Energy Storage System is an all-in-one solution for homeowners looking for a cutting edge "plug and play" battery system.
Company Overview
The roots of Samsung can be traced all the way back to 1938. This South Korean company has made numerous transformations to eventually become the electronic powerhouse that it currently is. Its adoption of the acronym SDI stands for Samsung Digital Interface. Being that Samsung is a large and well diversified company, it is expected that they will make a considerable foray into the energy storage market.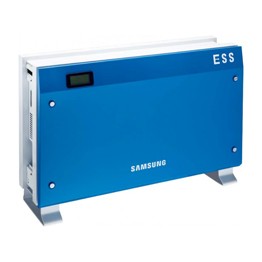 Product
The Samsung SDI storage system is a multi-function unit. It includes a solar/battery inverter and a lithium-ion battery with a total capacity of 3.6 kWh. Larger systems are expected to be offered soon (likely in 2017). Its current system weighs 209 lbs and measures 39″ x 10.5″ x 26.7″.
The key features include –
3 Functions – PV inverter, battery inverter, and Lithium Manganese Oxide battery.
Very simply installation – set up for "plug and play".
Web and mobile monitoring capable.
Long lifespan – at least 6,000 totaly cycles.
Availability
Samsung will be making their storage systems widely available in the United States before long.
Fill out the form on this page for availability in your area.
Summary
Samsung has already shown its ability to offer great value in its many other electronic products. Their energy storage system is no exception to this rule. It's form factor can be considered average compared to other units. The 6,000 total cycles promised is very competitive. The company's relatively large size can serve as leverage to further develop their storage technologies and make their systems more widely available in the U.S.