Also known as the Sonnenbatterie eco, the Sonnen battery system is a robust "out of the box" energy storage solution sized for both residential and small scale commercial use.

Company Overview
Sonnen is a German company established in 2010. The company is now one of the largest energy storage companies in Europe. In fact, as of early 2016, the company has it a milestone of shipping more than 10,000 battery systems. In addition to Europe, their systems can now be found in Australia, the Philippines, and the United States.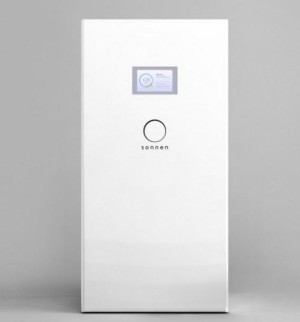 Product
The Sonnen battery storage system is an all-in-one solution that is available in 7 different sizes for residential use with systems ranging from 4 kWh to 16 kWh, increasing in 2 kWh increments. The system also includes an inverter, energy manager, and software to monitor and control energy usage. The physical specs are 27.6″ x 21.1″ x 8.7″.
Other key features include –
Advanced lithium-iron phosphate chemistry – offers reliability, safety, and known to not contain any toxic metals.
Substantial Performance – the inverter is capable of providing a 93 percent efficiency rating.
Lifecycle – The company offers an impressive 10,000 lifetime cycles for their systems or at least 10 years.
Availability
Sonnen is looking to team up with SolarWorld among other leading solar providers and installers in the U.S.
Fill out the form on this page for availability in your area.
Summary
Sonnen is already a well known and experienced energy storage company. The company is poised to expand considerably into the U.S. market. Their energy storage systems are very flexible in power offerings. The form factor is relatively slim. Their 10 year/10,000 cycles warranty is also better than much of the competition. Expect the company to become one of the largest home energy storage companies in the country.