The solar industry took off in a big way in Oklahoma with almost 30 megawatts of utility-scale solar in 2017. By the end of 2018 there was a total of 35 megawatts of installed solar capacity bringing the state to 46th nationwide. This is enough power for 5,000 homes. 2018 has also been a good year for the commercial and residential sectors, and this trend is expected to continue.
Get contacted by an affordable solar panel installer in Oklahoma by filling out the form on this page. Read further for more information about the state's solar industry.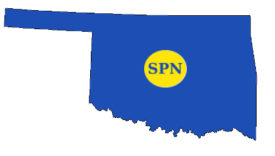 Here are some key numbers about the state's solar activity to date;*
About 3 megawatts of solar capacity was added in the state in 2018. This gave it a ranking of 46th for that year.
Oklahoma has 34 solar companies, which help about 739 people with employment.
The state has infused $31 million into solar projects in 2017. The cumulative amount to date is now $57 million.
Prices for solar in the state have dropped 47 percent over the past 5 years.
Mustang Solar is one of the most notable large solar installations in Oklahoma. Its 2.5 megawatts is enough solar electricity to power 310 homes.
Oklahoma had a renewable portfolio standard that stated that 15 percent of the electricity produced must be from renewable sources by 2015. The state met those goals and has yet to enact new benchmarks.**
The state has yet to enact a fair net metering policy. Residents are allowed to connect to the grid, for a fee, and are not compensated for their excess electricity. System sizes can be as large as 100 kilowatts, basically allowing for residential systems of any size.**
There are about 16 solar installers now operating in the state. They can be found in Oklahoma City, Tulsa, Norman, Broken Arrow, Lawton, Edmond, Moore, and Midwest City to name a few. 2018 has seen the first real residential solar installations This trend can continue, especially if the net metering laws are changed to fairly compensate customers.
Fill out the form on this page to get connected to a trusted solar installer in Oklahoma.
*Information and figures gathered from seia.org.
**Information and figures gathered from dsireusa.org.