Speaking at The Griffith Observatory this past Wednesday, October 7th 2015, California Governor Jerry Brown announced his further support for renewable energy measures.
He has set the goal for his state to be generating 50 percent of its energy needs from renewable sources, mainly wind and solar power, by 2030.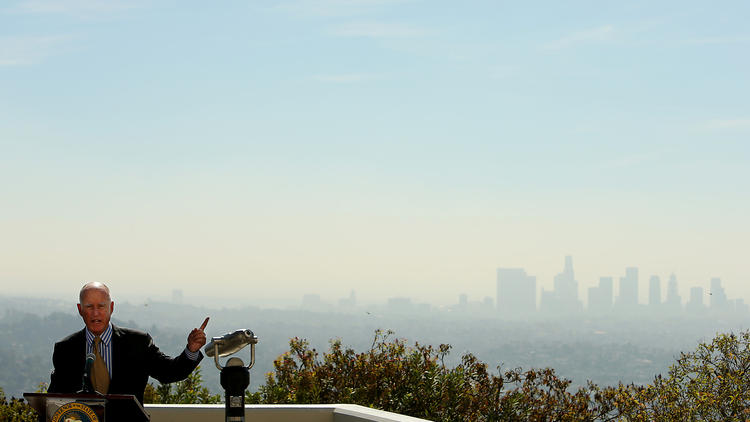 In addition to world wide climate goals, he has also mention the very important fact that renewable energy can improve the health of the citizens of California. "We are talking about the big world of avoiding climate catastrophe, but we are talking about the immediate world of people living in Riverside, Los Angeles, and other places". The Governor is specifically referencing air pollution, which continues to be a significant problem for many cities in California.
Another bill just signed – AB 693 – makes affordable solar power much more accessible to lower income communities. The bill assigns $100 million for solar to be installed at 215,000 multifamily housing units over the next 10 years.
Energy efficiency is also a very important part of the Brown's clean energy initiatives. In order to meet its overall goals, energy efficiency must be doubled in homes, offices, and factories across the state.
While the governor's third proposal, to cut the state's gas usage, didn't make it to the bill there will still be implementation of more electric vehicle charging stations. State Senate Leader, Kevin de Leon, wants to make charging stations "as ubiquitous as gas stations are." Brown has stated that he will continue working on this issue even though it wasn't added to the bill.
The utilities know that they must be completely on board with these measures to meet or beat the proposed timelines. The president of electric operations at Pacific Gas & Electric, Geisha Williams, has stated – "We have no doubt that we'll be able to get there. We have a real opportunity to create a model that other states and nations can follow."
The Governor is also likely to expand the Air Resources Board so that that communities that experience high levels of air pollution can get on a path to cleaner air.
It should go without saying that it is immensely important that California continues to lead the way in our transition to a clean energy society. The state has a considerable economic and cultural impact on the nation and the rest of the world as well. The Governor knows that he must do the right thing in terms of environmental protection.
It's also fair to say that these decisions are easier to make now that the costs of wind and solar power are now on par or even cheaper than conventional sources of power. Moving forward, the real transition to renewable energy will happen when the costs of energy storage drop just a bit more. When the costs of solar plus battery storage is economical, and we're real close, then we'll start to see an even quicker adoption of renewable energy. We'll finally be able to rely completely on clean energy at that point.
Hopefully more states and nations will take note of what California is doing. Only if we all work together on this task will we be able to reach our vitally important goals in the coming decades.