Chattanooga, Tennessee can now proudly boast to be the first city in America to have an airport that is 100 percent solar powered.
This story comes by way of a recent CleanTechnica article. According to the article, the city's airport has been gradually going solar since 2011.
The Chattanooga Metropolitan Airport (CMA) now has a total of 2.64 MW of solar power capacity. The ground-mounted solar panels have been installed on a piece of land that (before the installed solar) was determined to be unusable for regular airport purposes.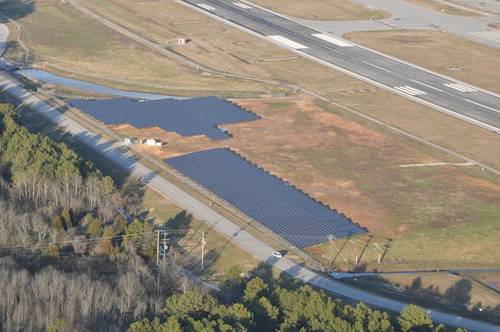 $10 million was the total cost for this solar power project. It is expected that the project will pay for itself in less than 20 years, with an expected useful life of 30-40 years. It also includes some battery storage so that the CMA can be clean energy powered after sundown.
This project was done in conjunction with local power company EPB and the Tennessee Valley Authority (TVA). The electricity from the solar system will be sold to TVA. As the local utility, EPB will still be billing the CMA, but at a much lower rate due to the solar power being provided.
If the CMA is now powered with 100 percent solar electricity, why are there any electricity bills at all, you ask?
This situation is very similar to home solar. When homeowners go 100 percent solar, their solar panel systems generate as much energy as they use throughout the year. However, they will not directly use all of the electricity themselves. Some of it gets sent to their neighbors. In this way, the CMA will, throughout the year, generate as much electricity as it uses. Whatever excess electricity it doesn't use itself will be sent to nearby customers of EPB.
A couple of other noteworthy items concerning this project are that the airport plans on soon becoming completely carbon neutral. It is expected that when they have a total of 3MW of solar installed this will be the case. The second item to mention is the fact that this project was largely funded by the Federal Aviation Administration's Voluntary Airport Low Emission (VALE) grant. This covered a high percent of the first phase of the project.
This story bodes well for other airports across the country. There are certainly many other parts of America with higher electricity rates, making solar even more financially attractive.
More clean energy airports are definitely on the way!