A recent report from the U.S. Energy Information Administration details the fact that solar power has contributed 2.7 percent of the nation's electricity needs for the first half of 2019.
This is another post inspired by a recent PV Magazine USA article.
The first half of 2018 had solar producing 2.4 percent of the country's needs, so this year is a decent 0.3 percent more. As there has been a somewhat slight slowdown in the residential solar market recently, the increase in solar adoption is only 9 percent more this year (preceding years had higher growth rates for solar).
As expected, western states are still leading the pack in total solar capacity. Case in point, California's solar installations account for a bit more than 17 percent of the state's electricity needs. Hawaii's solar capacity covers a significant 14.5 percent of its demands. Nevada is not far behind at 14.1, Arizona at 9.6, and Utah at 8.2.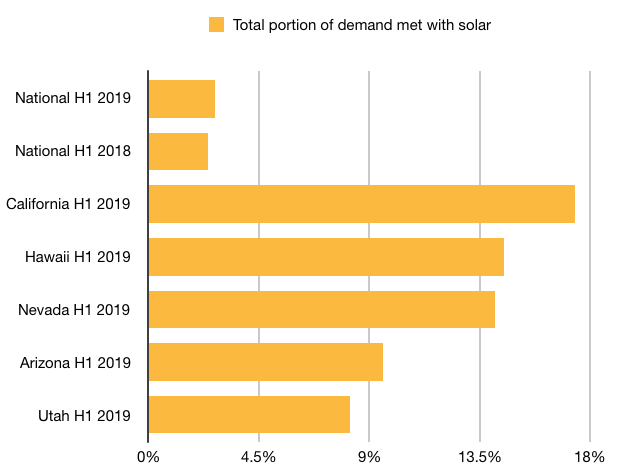 Some noteworthy parts of the U.S. with significant recent solar adoption include Florida, Texas, and parts of the Midwest. It will, of course, take some time for other parts of the country to catch up the total solar power installation amounts of some of the western states.
There are two primary ideas to take away from this story.
The first point addresses solar power naysayers, many of whom claimed that solar would never account for a significant percentage of the country's electricity needs. Sure, at just shy of 3 percent, solar still has a way to go but it is definitely on the map now!
A second point addresses where we can expect solar to be in the near future. There is every indication that the adoption rates of solar power will stay high. The overall costs involved with solar installations are still decreasing, although very slightly. Word is continuing to spread to both homeowners and utilities alike about how financially attractive solar power is now. Also, the viability of solar plus storage is also something that is looking better and better.
Considering the expected trajectory of the solar power industry, we can look forward to solar accounting for double digit percentages of the nation's needs in the not too distant future. Investing in non-renewable sources of energy simply does not make sense from financial or environmental viewpoints.
We are still at the beginning of a massive transition to a solar powered society!