Welcome to the Tesla Solar Panels page! This is where you will find all of the information you are looking for plus a $300 promo award through a special 2022 Tesla discount code.
Click the link below
Get $300 and start saving with solar!
Those looking to buy solar panels at the most affordable prices will find a great solar installation solution here. The cost of solar panels and how much you can save with Tesla is what you'll find on this page. Click the link above to get started with the best deal on solar or read further for details on how cost effective solar prices are with Tesla.
Overview
Tesla originally entered the solar industry in 2016 with a partnership with Panasonic. The company's goal was to streamline homeowners' ability to go solar. Much like their other products, they strive to make the buying process easy. Offering the most affordable solar will also enable more homeowners to switch to solar. This is in alignment with the mission of Tesla; to increase the pace in which we transition to the use of renewable energy.
Tesla Solar Pricing
In an effort to streamline the purchase and installation process, Tesla offers 4 pre-set solar panel sizes and associated prices.
[table id=5 /]
To determine what size system you would need, you simply divide the amount of kilowatt-hours used in a month by the number of days. For example, if during a typical month your bill shows a total usage of 900 kWh, you would divide that by 30 days to get an average of 30 kWhs per day. In this example, the 8.16 kW system would just about cover your needs. Of course, Tesla's site will help make sure you are getting the properly sized system.
It's worth noting as well that the prices listed in the above table do not yet account for the current 26 percent tax credit. After taking that into account, the price per kilowatt hour drops even more. The cost per watt then becomes an industry leading $1.49. This record setting pricing will allow homeowners to recoup their investment in just a few years time.
To use the example above, this would have that 8.16 kW system costing only $12,158. Payments for this system at 5 percent over 10 years is about $127/mo. The average homeowner with this amount of monthly electricity usage pays about $150/mo to their utility, so homeowners can immediately save about $23/mo right away. Savings are even more in higher priced parts of the country.
3 Ways To Pay
Tesla offers a few different ways to pay for their solar panels.
Pay for them outright.
Secure financing.
Sign up for their solar subscription service.
Of course, paying cash for the panels will save homeowners the most. The next best option is to secure solar financing. For those looking for another option, the Tesla solar subscription is available as well for as little as $50/mo.
Tesla Price Match Guarantee
Tesla offers an impressive price match guarantee. If a homeowner can present the company with a competing lower price, Tesla will match it. The proposal must include at least a 10 year warranty at minimum, an inverter, and a size that is the same or larger. It must be a recent quote as well, within 14 days.
It should also be mentioned that the company is pairing their home energy storage product, The Powerwall, along with their solar panel system installations. Tesla knows that homeowners would also like to have the piece of mind that they will have backup energy in case of emergencies and the Powerwall also helps to save more money over time as well.
Tesla Solar Brand
Tesla is currently offering Hanwha solar panels. The specific panels used are called "QPeak Duo Black." The company has chosen these panels for their cost effectiveness and because they offer a sleek black design which features a seamless integration with rooftops. In this way, the installation hardware is hidden offering a better curb appeal.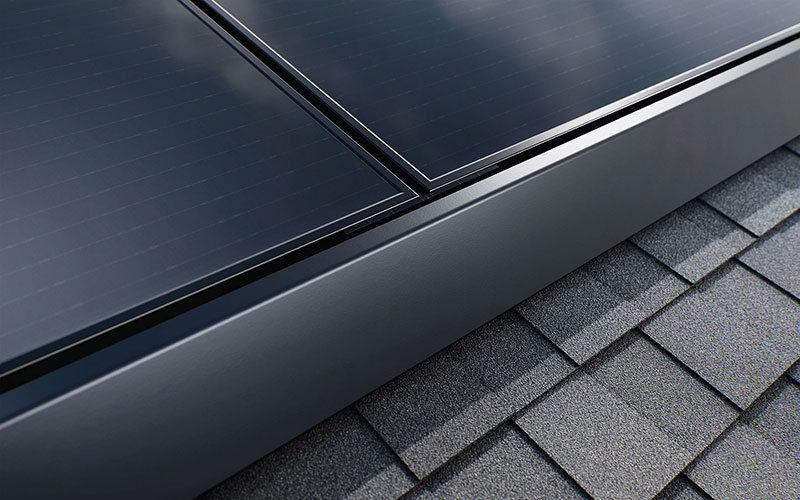 These panels also offer a very competitive efficiency rating. Most solar panel brands have similar ratings so choosing a particular brand of solar panels is not a determining factor. The most important factors are price and ability to follow up on their warranty guarantee. Tesla has both covered; a low price guarantee and the ability to be there for their customers many years into the future.
Conclusion
Tesla is poised to become the home solar market leader in the U.S. with industry-leading pricing and a streamlined solar panel ordering and installation process. Their aggressively low pricing and desire to do their part in our transition to a clean energy society has just begun!
Click this Tesla.com link for a Tesla referral code to get your $300 and start saving money with Tesla Solar Panels!