The Energy Information Administration (EIA) is predicting a stellar year for solar power in 2020.
A total of 24 Gigawatts of solar is expected to come online by the end of the year, according to the US Department of Energy's EIA. This is impressively 60 percent more than 2016's record year (15 GW). While the majority of this new solar capacity is at the utility scale (17.4 GW), 6.6 GW of small scale solar is nothing to scoff at!
It's also worth noting that a significant amount of wind power will be installed by the end of the year as well. The EIA is predicting about 18 GW.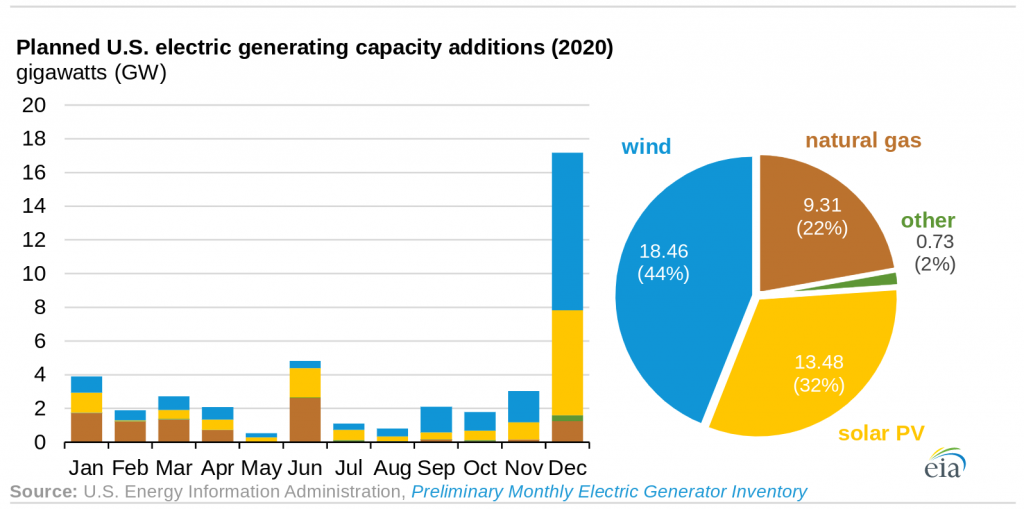 This momentum is expected to carry over to next year with an estimated 26 GW of new solar capacity for 2021.
The renewable energy tax credit has certainly had significant effects on the solar industry. More specifically, it helped nudge the industry to that record year in 2016 and also conversely we saw a slow down after that year as many had already utilized the credit. The credit is 26 percent this year and gets lowered to 22 percent next year, which is the last year for the credit to be utilized at the residential level. This will certainly help keep the residential solar industry strong, especially next year as homeowners look to take advantage of the credit before it disappears.
Unsurprisingly, this impressive upcoming renewable energy boom coincides with a decline in new fossil fuel expansion. Wind and solar power continue to lessen our need and reliance on dirty fossil fuels.
Just as important as an increase in the capacity of renewable energy is, the further use of energy storage is vital as well. The good news is that energy storage applications are expected to be deployed at all scales in significant volumes in the coming years.
While some may see the tax credit as being central to the rise in solar power usage, its actually a smaller part of the big picture. The big picture is that the cost of solar is, and has been for some years, very favorable compared with conventional energy. Costs have continued to fall, albeit more slowly, as they begin to level off. Further decreases in the cost of energy storage will have many homeowners, businesses, and power companies fully embracing solar plus storage solutions in the coming years!
It's exciting times for fans of renewable energy!